Whether you're trying to make some extra money blogging or working for yourself full-time, there are a lot of tools that can help. Over time, I've allowed myself to invest and upgrade these tools but for awhile - you don't need to spend a lot to stay organized!
Finances, Taxes and Bookkeeping:
I can hardly add anything without a calculator but there are some amazing tools that will help you do things like bookkeeping and filing taxes:
Tools to Communicate:
Networking, emailing and meetings are a huge part of owning your own business. I use the following tools to make those experiences better:
GoTo Meeting: It's $50/mo but is really, really dependable. When I "meet" with people out of the state or country, I need it to be dependable. I also love that I can invite up to about 25 people for webinars or classes.
Contactually: It reminds me to contact a handful of people daily. You can categorize contacts, decide how often you want to communicate with those categories and essentially tracks your online networking. It is SO important when you rely on new business and referrals to keep you afloat.
A Meeting Notebook: Best $9.00 I've ever spent! Each page is designed for a meeting so I can write down the date, topic, who attended, notes and actionable steps. After years of using multiple notebooks, I could never remember WHERE I wrote down WHAT. This solves that problem in a really simple way.
Productivity and Organization:
We all love to stay organized but sometimes
too
many tips can overwhelm so I'll try to keep this simple:
Toggl for Desktop: I don't always track my time but sometimes it keeps me on task and I work faster if I know a stopwatch is running. This is super simple to use (and free)!
Action Pad: I don't tend to gravitate towards digital list-making but I do love the Action Method concept. I ordered these pads and love that it limits myself to a certain number of tasks but then (since it's a tear off notepad) encourages me to throw it away at the end of the day and start fresh the next morning.
Allow yourself to goof around: I take time out of my day to look through Twitter, Instagram or watch way too many YouTube videos. Let your mind take a break. Sometimes those breaks work as inspiration and while your brain takes a break...new ideas floats in.
Eat Clean: When I keep my diet clean and stick to whole foods - my productivity increases exponentially. It's so worth. I encourage you to try Sarah Wilson's I Quit Sugar eBook and download my gluten-free meal plan. It's probably the best investment of your time when it comes to health!
What tips, tools or apps would you recommend?
---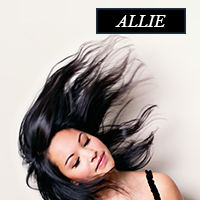 Allie Lehman is a
small business owner
who solves problems through design and works with her clients to unify their brand. You can find her blogging over at
Be Up & Doing
where her goal is to create a community around ideas, faith and honesty. She lives in Columbus, Ohio with her handsome husband and cutie pie cockapoo.