I've talked before on here about my love of music. One of my go-to albums right now is The Lumineers. It's good to have on while I work, or clean house, or dance in the living room with Magnolia & David. It's a good album. I recommend it. Track 4 on the album is called Dead Sea.
"Like the Dead Sea
You told me I was like the Dead Sea
You'll never sink when you are with me
Oh, Lord, like the Dead Sea
Whoa, I'm like the Dead Sea
The finest words you ever said to me
Honey can't you see,
I was born to be, be your Dead Sea"
I really like this song. And even find it romantic. The Dead Sea -- a lake with such high salinity that you literally can float on it effortlessly. (fact of the day: it is 8.6 times saltier than the ocean!) So this is a sweet song. The Lumineers croon to a lover who feels safe, as though she will never sink or fall -- the density of the relationship, makes it impossible.
But, there's a problem with the Dead Sea,... it's dead! Nothing moves or flows. And though it's a great tourist destination and produces great balms and health remedies made from it's salt and minerals, nothing flourishes there. It is nearly completely void of life that you would find, say, in a living sea. So though this song may be romantic in gesture, is it about love?
Because what does real love look like? It looks like living water!
"Whoever believes in me, as the Scripture has said, 'Out of his heart will flow rivers of living water.'" John 7:38
"They shall hunger no more, neither thirst anymore; the sun shall not strike them, nor any scorching heat. For the Lamb in the midst of the throne will be their shepherd, and he will guide them to springs of living water, and God will wipe away every tear from their eyes." Revelation 7:16-17
And what does it look like to serve a God of living water? As believers, we know that life is not just about floating from season to season, but is always active and evolving. Serving a God of living water in fact does look like, and even require, some sinking -- coming to the bottom of ourselves and discovering the depths of who God created us to be and to thirst for Him alone.
I want to be alive in Christ. I want to enable others to emerse themselves in the living water. This song, though I'm sure were not it's intentions, challenges me to evaluate my relationships. Am I allowing those who enter my life to just float around me? To accept a life of the status quo, to hide from challenges, to loose themselves in worldliness, to deny the spirit that God has given them? Was I born to be a [relational] dead sea?
Or, does my heart overflow with rivers of living water? In my relationships do I provide a safe place to sink, a place for vulnerability and realness of heart? Do I desire for my friends and family and community to be sanctified, no matter how strenuous or even painful the process -- trusting in a merciful Savior? Do I speak life that drives away death? Do I come with open hands offering nothing less than myself putting other's before me?
I'm not quite sure I like the answers to all those questions. It's definitely a challenge. But I do know, beyond any shadow of a doubt, that I was not born to be a Dead Sea.
---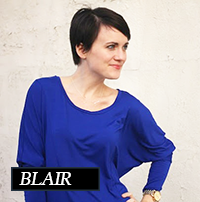 Blair McLeod has a passion for equipping others to find their voice and serve others. She is the mother of one, married to an artist, works full time as a middle school youth director, and loves Nashville, which she calls home. Blair has loved the relationships and doors that blogging has opened for her. One thing in particular she is super proud to be a part of is
The Purpose Project
-- that allows bloggers to use their own personal story and social media platforms to make a change in the lives of people in Africa. You can follow Blair's lifestyle and fashion blog at
Wild & Precious
.