Today we celebrate International Women's Day, a "global day celebrating the economic, political and social achievements of women past, present and future." I for one am pretty excited to be a part of this community of influential women -- women from across the country who are using their stories and their platforms to impact lives around them. Perhaps we aren't the inventor of the dishwasher or the first woman elected to congress, but we are women of power. We display God's power everyday when we give grace to our children, serve our neighbors, wait patiently in traffic, make sacrifices to provide for our family, put others first, even folding the laundry. We are women of power!
In this community I have met women who have suffered crippling loss and instead of hiding in dispair, minister out of pain. I have met women who are not afraid to lend their voice to stand against injustices not just in their own towns, but across the world -- fighting for women they have never met. In this community I have met women who write books and run successful businesses all for the glory of God, women who gracefully face infertility, women who take care of their home and families while their husbands are deployed. In this community I have met women who seek daily to know Jesus and to become more like him. These are women of power!
So today sweet influence network family, you are the women I celebrate -- I celebrate God's power in you!
Therefore I will boast all the more gladly of my weaknesses, so that the power of Christ may rest upon me.
---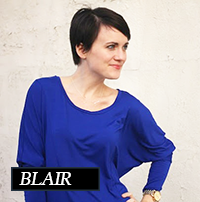 Blair McLeod has a passion for equipping others to find their voice and serve others. She is the mother of one, married to an artist, works full time as a middle school youth director, and loves Nashville, which she calls home. Blair has loved the relationships and doors that blogging has opened for her. One thing in particular she is super proud to be a part of is
The Purpose Project
-- that allows bloggers to use their own personal story and social media platforms to make a change in the lives of people in Africa. You can follow Blair's lifestyle and fashion blog at
Wild & Precious
.